Cannabis Marketing Software – Great for Maximizing Customer Engagement & Value
Marketing your cannabis dispensary to consumers ain't easy. Most regulations prohibit you from using traditional marketing like TV, radio, and print ads and mailers, and from sending unsolicited emails and text messages. Google won't let you run ads, and Facebook and Instagram not only ban cannabis ads but will ban your accounts without recourse. Billboards can be risky, too.
For the most part, your best marketing option – aside from listings on online marketplaces like dutchie, WeedMaps, Leafly, and I Heart Jane, which we've covered in a separate article; and SEO and content marketing – is to market to existing customers that have opted in to receive communications from you via text or email.
It's all about keeping your existing customers, keeping them coming back and buying more, and getting them to refer you to friends and review on the marketplaces and Yelp and Google. That's where cannabis marketing software like Springbig and Alpine IQ can help.
Why Do I Need Separate Cannabis Marketing Software?
Most cannabis dispensary software includes basic marketing features including CRMs (customer relationship management, basically tracking customer info and activity) and basic loyalty and discounting programs, letting you set give reward points to customers based on what they buy and how much they visit and spend. A few like Meadow and KlickTrack have native in-app text marketing. But if you're looking to run serious, well-targeted, automated marketing campaigns, you're going to want a standalone cannabis marketing application.
General cannabis dispensary software is all about compliance, order tracking and processing, inventory tracking, and making sure the customer checkout process is fast and pain-free. Maybe in the future someone will combine a cannabis POS and comprehensive marketing solution in one application, but it hasn't happened yet. In any case, most cannabis marketing software integrates so well with cannabis POS systems that the only real issue with them being two separate applications is with separate billing.
In addition, some cannabis companies may want a separate marketing application. That way they don't have to give access to their critical POS data to people that don't need it, like marketing employees or outside agencies and contractors.
Can't I Just Use Regular, Non-Cannabis Marketing Software?
You sure can, unless your marketing software company is reluctant to work with cannabis companies for whatever reason.
Cannabis-specific marketing software is preferable for several reasons including:
They're built to comply with the cannabis industry's unique marketing and advertising regulations, including age confirmation
They integrate well with other cannabis software
They're set up to collect, organize, and present relevant cannabis-specific data like product types, THC content, etc.
They're built to engage retail consumers and focus heavily on text message marketing, which isn't the case with most general marketing software
Cannabis marketing software is great for direct consumer engagement by dispensaries. If you're involved in B2B cannabis marketing or organic, indirect B2C engagement like content and social media marketing, you can probably use generic sales and marketing software like HubSpot, Pardot, SEMRush, etc., like any other business.
Common Features of Cannabis Marketing Software
Advanced CRM – a more detailed and easier to sort CRM than the one that comes with your POS; lets you segment your customers for targeted campaigns and more meaningful analytics
Advanced Loyalty & Rewards Programs – most POS systems only give you a few options for loyalty programs, like groups/tiers, bulk discounts and specials, and setting your reward points per dollar spent; marketing software adds features like self-service reward wallets and more advanced and automated segmentation and points systems, and allows you to tie them to specific text and email campaigns
Opt-In Forms – cannabis marketing software gives you more and better ways to get customers to opt in for loyalty programs and marketing communications, including via text message, mobile landing pages, and in-store kiosk screens
Text Message Marketing – send basic and multi-media texts to customers; much higher open and engagement rate than email
Email Marketing – including a drag and drop editor; cheaper than text messaging and with less rules
Marketing Automation – set up triggers to send customers messages based on conditions like orders, time since last visit or order, cart abandonment, birthdays, specials and discounts relevant to their purchase history, etc.
Customer Feedback – send an automated request for feedback via text right after an order or visit; receive and respond to any problem right away, so the customer is satisfied and doesn't leave any nasty reviews and go to a competitor
Reward Solicitation – remind customers to leave a review for you on various sites and give them reward points to incentivize and thank you
Referral Program – get customers to refer you to their family and friends and thank them with reward points
Marketing Analytics – including open, click, and conversion rates, ROI, and heatmaps of customer addresses
Custom Apps – the software vendor will create a custom app for you, allowing customers to view your menu, submit orders, track their purchases, review their reward points/wallet, and send and receive messages for free, all within the app
Top Cannabis Marketing Software
The Leader: springbig
springbig's website bills itself as the "leading cannabis marketing platform". According to its job descriptions, it has 160 employees, most of them at its HQ in Boca Raton, FL, and they have over 1,000 clients across 2,300 locations supporting over 37 million consumers. In 2021 they were ranked 69th on the Inc. 5000 of fastest growing private companies in America. Its founders have a background in retail loyalty marketing, the CEO being a founder of inteQ (https://inteqinsights.com/). They're currently attempting to go public via a SPAC merger.
It leans heavily towards text messaging and in-app marketing. It offers highly-automated tools that help you segment your customers and engage and convert them.
Key features
Highly customizable loyalty & rewards programs
Self-service digital rewards wallet
Rich-media text message marketing
Solicit reviews and social media follows
Automated customer segmentation
Automated text message marketing
Auto filtering of fake phone numbers and landlines
Custom apps
Referral programs w/ automated rewards
Feedback via text
Request a Demo: https://springbig.com/request-a-demo/
Best for In-Depth Features & Omni-Channel Marketing: Alpine IQ
If springbig is the popular and user-friendly iPhone of cannabis marketing software, Alpine IQ is like the more customizable, extensible, and full-featured Android.
While springbig is more focused on text message marketing, Alpine IQ is more about collecting data from all your different apps and engaging in omni-channel marketing and tracking. Other differentiators include custom web apps (instead of mobile apps), prospecting features for the sales teams of cannabis brands/manufacturers, and cool "waterfall" messaging features that help you avoid spam filters and make sure your communications are delivered to customers.
Key features
Data aggregation, sorting, syncing across different apps
Automatically consolidates duplicate customer records
Email and text marketing
Share analytics with brand partners
Brand sales team features – partner discovery portal, product & category trends and data, Leaflink integration
Solicit reviews
2FA verified rewards wallet
Custom web and native apps
Customer feedback (via Tattle integration)
Referral program
Request a Demo: https://alpineiq.com/
Best for Advanced Omni-Channel Marketing: Surfside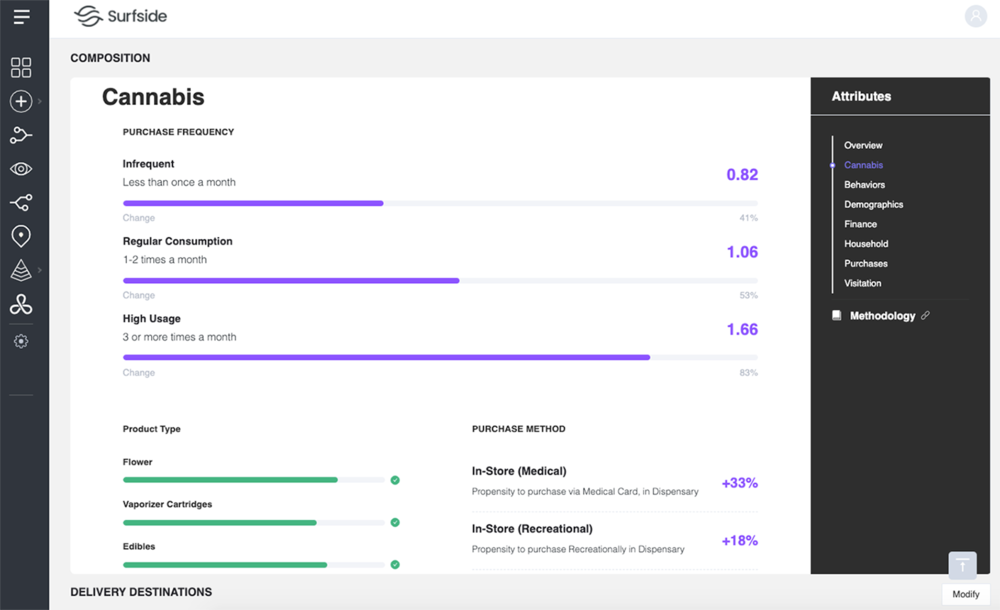 Surfside is "an end-to-end marketing technology" that combines advanced, comprehensive data aggregation with powerful, highly-automated, omni-channel marketing and advertising campaigns and intelligent analytics/attribution. They claim to be able to reach 98% of all consumers in the US and Canada, or 700 million devices 1 million apps and websites, serving 100 billion ads per day based on 25,000 customer attributes.
It sounds like Surfside really has the ability to find potential and existing customers and engage with them wherever they are, all in a highly automated way, delivering them the exactly right message in the exactly right sequence at the exactly right time so that they're most likely to buy. The fragmentation of media is one of the biggest challenges facing marketers today – customers aren't watching the same 5 channels or reading the same 5 magazines anymore. Plus, many are ultra-skeptical of marketing and advertising and probably have to run across your brand 20 times or more to build up the necessary awareness and trust. If Surfside can deliver on its omni-channel promise, especially in a unique and highly-regulated market like cannabis, then it's a CMO's dream solution.
Key features
Data aggregation
Data enrichment
Lookalike audiences
Omni-channel marketing and advertising that reaches over 98% of Americans and Canadians
Dynamic messaging
Request a Demo: https://surfside.io/demo
Best If You Want All-In-One Marketing & Marketplace Software: Blackbird
Blackbird combines marketing features like loyalty programs and text and email marketing with a native online marketplace (BlackbirdGo). They're also a licensed cannabis transporter and delivery company in the state of Nevada. Blackbird was purchased by the California cannabis distribution platform and services company HERBL in 2021. Maybe a good option if you want an all-in-one marketplace and marketing app and/or you're located in California or Nevada, or you're already an HERBL client.
Key features
Customer sign-up and check-in
Native online marketplaces (BlackbirdGo)
Customer segmentation
Text and email marketing
Customizable loyalty and rewards, including point magnifiers and product deals, discounts, and swag
Transportation and delivery in Nevada
Request a Demo: https://nest.myblackbird.com/request-a-blackbird-demo
Best for WeedMaps Fans: WM CRM
Sprout was top name in cannabis marketing software for a while, but you didn't hear too much about them after they were acquired by WeedMaps in 2021. The software was integrated into the WeedMaps for Business suite in 2022 and rebranded as WM CRM. They have all the typical features you'd expect in a cannabis marketing application including a CRM, text and email marketing, segmentation, mobile landing pages, social media integration, and customer sign-up/opt-ins. Probably a good options if you're deeply invested in the WeedMaps platform already.
Request a Demo: https://weedmaps.com/business/crm/
Other Cannabis Marketing Software of Note
Stemless
Lean cannabis marketing software focused on text messaging. Adds key loyalty, text message marketing, and analytics features.
Advanced loyalty programs with in-depth tracking, reports, and segmentation
Text messaging marketing that you can segment by purchasing habits, age, visit times, and more
Heatmaps that let you track where your top customers live
WARPSPD
Mobile and hyperlocal/in-store marketing tech that helps engage, attract, and convert customers.
Automated, AI-driven email and text marketing with custom product recommendations and promotions
Virtual queues
Real-time customer feedback
Creative promotions include gamification, contests, deals of day
In-store-only deals, inventory, promotions on mobile
EyeRate
https://www.eyeratebusiness.com/
A tool that helps you solicit and get more reviews, and recognize and reward employees that get mentioned.
Need Help Picking Cannabis Marketing Software?
Need help selecting, setting up, or supporting your cannabis marketing software? Reach out to hello@cure.tech today. We also recommend the experts at MJstack for personalized cannabis software recommendations, or asking for recommendations from your current cannabis POS or ERP vendor. If you need help with your overall marketing and creative, there are a lot of good cannabis-specific and non-cannabis-specific marketing firms out there, though we can vouch for the people at UpHouse for being great to work with and delivering quality work.
Thanks for reading!