As more stores realize the benefits of digital signage, it is at the helm of a retail revolution. Brands have the opportunity to increase brand awareness by embracing digital. Digital signage provides for real-time updates and can function as a network of screens that can be updated remotely, ensuring that every branch of your business is up to date.
Digital signage is not going out anytime soon. In fact, between 2020 and 2026, the digital signage market is predicted to increase at a 6.02 percent annual rate. With figures like these, it's clear that it's time for your retail store to go digital.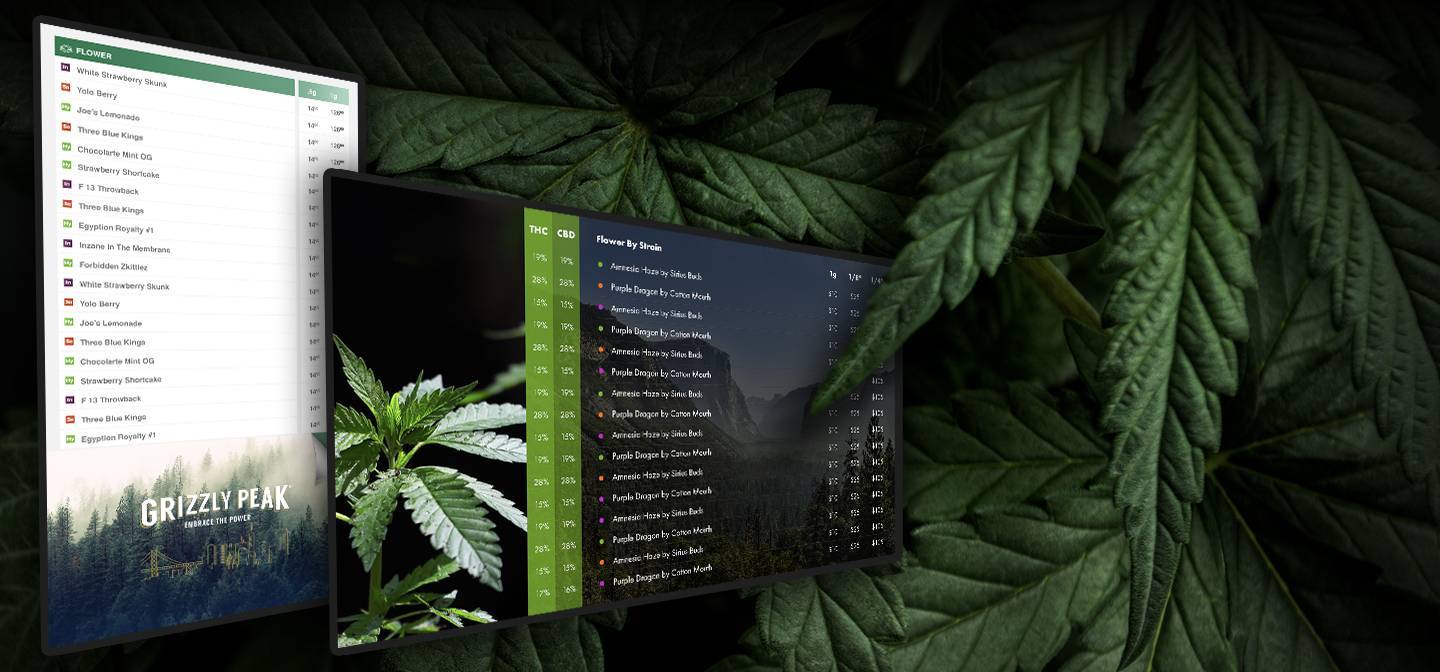 Digital signage is more than just a static display; it encompasses a wide range of signage solutions that you can use in your cannabis retail store – check out the various advantages below.
What are the advantages of digital signage for retail stores?
Although each business has its own set of motivations for using electronic displays advertisements, some are universal across all industries and settings. LCD and Plasma screens, after all, are appealing high-tech instruments that can be used for informing, entertaining, and marketing. Their glowing screens, like televisions, turn heads and draw attention in practically any public space. Unlike television, the content on their screens is fully customizable, limited only by your creativity and the tools, data sources, and technologies available to you.
Help Inform and Educate
Unlike static media, digital signs can employ and combine text, visuals, sounds, and animation to convey and illustrate concepts more effectively than traditional signs or bulletin boards, thus, they are ideal teaching aids.
More Eye-Catching And Memorable Than Static Media
If you've ever walked past a television or digital sign in a public place, you know how difficult it is to resist looking at the screen. Something about the combination of brilliant lights and moving content always attracts attention.
According to a study, people are 5-10 times more likely to notice dynamic than static media, and 2-5 times more likely to recall its message.
Reduce Perceived Wait Times
While your visitors wait in line to speak with your staff, a strategically positioned electronic display with suitable and informative content might help them pass the time.
According to a study, people who wait in line for more than three minutes, greatly overestimate their real wait lengths. But when digital signages TVs are installed, the degree of overestimation of wait times dropped from 32 percent to 14 percent.
Enhance Branding And Image
Digital signs not only disseminate information but also enhance the image of the company that employs them. Electronic messaging gives your retail store a "high-tech" appeal, indicating to customers that your company is modern and up to date. Increased sales, membership enrolment and customer retention can all benefit from brand enhancement.
Enhances Entertainment Possibilities Inside the Store
Digital signage solutions in retail businesses are an added benefit for improving the customer experience and increasing sales. There's no better way to turn leads into sales or increase client retention than to delight them with purchase displays at the digital point of sale.
Customers will want to browse for longer periods of time while watching entertainment features like floating games and on-screen characters. These retail adverts will continue to play an important role in the creation of tailored content for individualized customer experiences. Brands can use these entertainment aspects to draw customers to display content screens while also advertising their brand through the presentation of screen content.
According to a study, at least 80% of male and female purchasers perceive shopping to be a sort of entertainment, retailers targeting millennials would benefit more from digital signage systems.
Entertainment features given by digital signage displays can capture client attention regardless of age or taste. Retailers could make use of this chance to distribute their interactive catalogs, real-time marketing trends, and new store openings. Shoppers frequently utilize these platforms to research the brand's cataloged products or other services.
Top Three Reasons To Opt For Digital Signage
Digital signages in stores are quite effective due to their attractiveness. Traditional signposts are also interesting, but unlike digital signs, they are not as adaptable. Digital signages have the ability to display a large amount of data. Furthermore, electronic systems are interactive and can entice customers into a store.
Here are the top 3 reasons you must opt for digital signages in your retail store:
Wise Investment
The advantages of digital signage in retail make it feasible for small businesses to invest in this technology. It makes no difference what is the size of your business. The digital sign is distinguished from traditional banners or billboards by its magnetism and hues.
The digital display will undoubtedly increase your consumer base, making it easier to compete with larger retail establishments in the neighborhood. Electronic signs in store entrances and inside selling areas assist salespeople in promoting specific items. The sign helps them improve their sales pitches, especially with apathetic customers.
How does this happen? When a store staff introduces certain products, many shoppers ignore them. The typical response is a brusque, "No," or the shopper simply walks away, ignoring the salesperson. It is feasible to use this computerized display board and update slides as needed using digital signage in retail. Rather than chatting incessantly, the personnel can visually demonstrate the product's features and benefits. More information is registered and remembered by consumers. The likelihood of a sale is increases.
Customer-Focused Designs
In addition to content, electronic signs may produce more designs and styles than traditional signposts. In short, digital signage gives customers more information about the store. The user-centric design approach is used to create products that are tailored to the needs, preferences, and weaknesses of customers. This is true in terms of both design and product quality.
Integrating design features in the slide or slides allows for a customer-centric design of digital signage in stores. These features are immediately recognizable and relatable to customers. Because the majority of these customers are in a hurry, design elements must not cause them to become confused. It should immediately convey the intended message.
Customer centricity, by the way, does not merely involve providing excellent customer service. It also emphasizes providing the finest experience possible, beginning with awareness, the purchasing process, and the post-purchase stage. This strategy entails the ambitious retailer putting the customer first and foremost in the business.
Experiment with Messages
Retailers are free to experiment with messages, graphics, and video to see how they might better communicate information. Experimenting with displays will allow you to convey a wide range of information through the medium.
You can use the digital signages instructing customers on how to use it. To put it another way, think about several approaches for creating and efficiently employing signs. At least one of your trials will undoubtedly be successful. Electronic signage gives retailers a variety of options for increasing marketing and advertising. It's a great approach to announce special offers, sales, price drops, and discounts.
Digital Signage Is The Lifeline Of Retail
We hope you're fully aware of all the advantages that a simple tool like digital signage can bring to your retail business in terms of improving the consumer experience.
Integrate highly engaging retail digital signage into your store to make your clients' shopping experience more enjoyable and to allow them to shop until they drop!
How Can Cure8 Help?
Digital signages are dynamic and enabled to constantly change, therefore, they are more likely to catch the eye of shoppers and turn passers-by into customers.
At Cure8, we understand that every business is unique and the solutions have to be customized accordingly, as well.
Our digital signage IT solution helps you create eye-catching displays that can help you get better profits.
We will help you procure the apt hardware, software, and install it with perfection. And that's not where our role ends. We enable you access to 24/7 IT assistance just in case your business needs it. Get in touch with our expert team today!