The cannabis market is flourishing, but it is also fiercely competitive. The key to standing out from the competition is to provide an outstanding customer experience. While you should prioritize product quality, store layout, and queue management, digital displays must also be considered.
Cannabis businesses are adopting digital signages as the technology wave and medical cannabis industry continue to intersect. It's easy to see why, given the numerous advantages of digital signs over handwritten menus and frequently changing promotions. Digital signages may help a cannabis business stand out from the crowd while also saving time and money.
In this comprehensive guide we are going to discuss the types and benefits of digital signage, reasons you must not use consumer TVs for digital signages, how to install digital signage securely and successfully, and digital software solutions that you can implement for your digital signages.
Let us now go through the guide to help you dive into the world of digital signages and learn how a well-built and placed digital display can give your canna-business a major boost:
Why Your Cannabis Needs Digital Signages?
Increased profit and efficiency
Highlight the popular and profitable products and manage your menus in a time-efficient way.
Boost sales.
Update your menus and promotions quickly.
Reduce wait times with high-tech displays.
Improve social media engagement with live feeds on the display signage.
Easily control small or large networks of screens with any number of users.
Types Of Digital Signage
Read our full guide to types of digital signages
Every cannabis business owner has a certain idea of how they want to set up shop. Here is a list of types of digital signages you can choose from to deploy at your store:
Free-Standing LCD Display
Mounted on the floor, a Free-Standing LCD display can block a customer's path but will draw their attention for sure. These signages can prove to be great tools for customer interaction as it uses LCD monitors for display.
Indoor Style Digital Signage
Businesses that need to deliver a list of messages, services, and notices to their customers can utilize these displays. With the help of indoor digital signage, business owners may update their advertisements in a way that is appealing to visitors.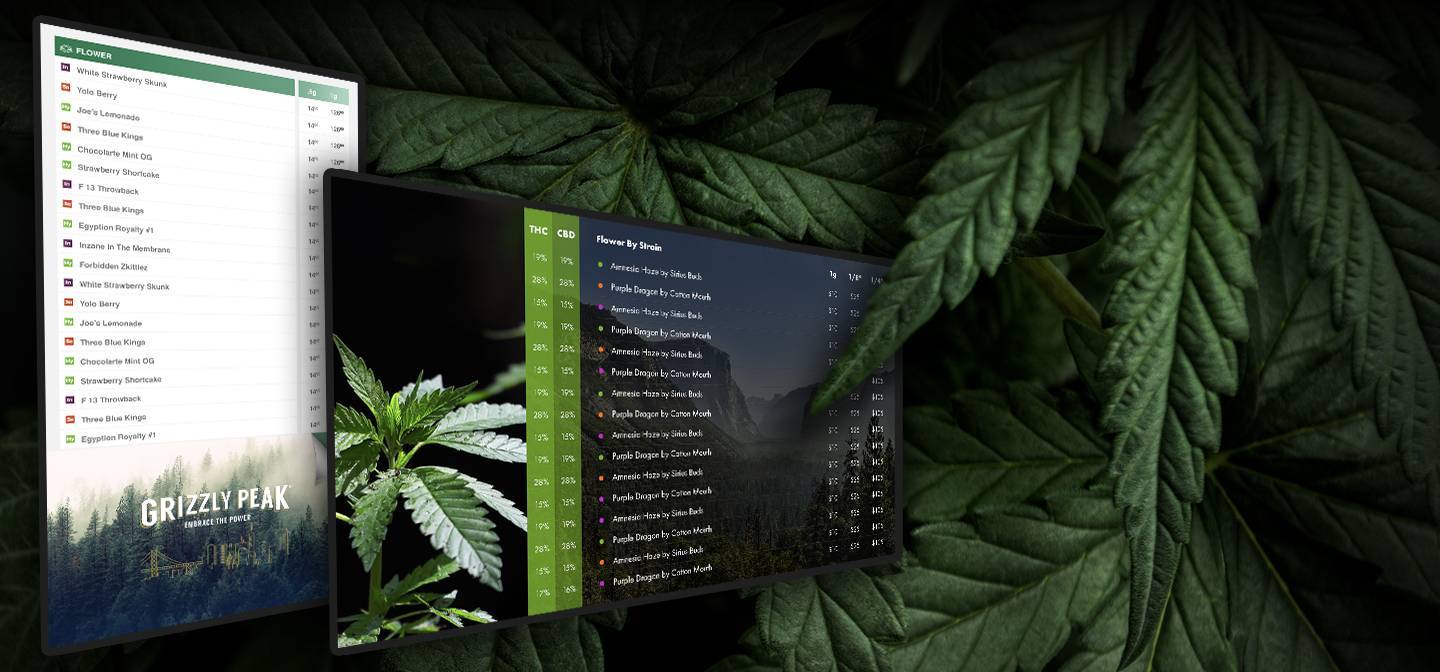 Outdoor Digital Signage
Digital signages that are displayed outdoors are also known as billboards. These are difficult to install and need appropriate waterproofing with adequate ventilation and an apt cooling system.
Although, outdoor signages are expensive options they can catch the attention of every passer-by.
Interactive Floor Standing Display
They're great for encouraging customers to interact with your business. They're frequently used to help customers shop, understand the selection, and even order items that are not currently in stock at the store. These interactive displays benefit the customer by promoting a high level of interaction, which can help your current branding become more effective.
Wall Mounted Digital Posters
These are the simplest of all digital signage options. As the name suggests these digital signages are mounted on walls. The media player is housed inside an LCD enclosure that also houses the signage's LCD.
Smaller versions of digital posters are occasionally used as menu boards, which is one of the advantages of this type of signage.
Ceiling Mounted Digital Signage
As the name suggests this digital signage is suspended from the ceiling. Installing digital signage on the ceiling is less invasive, but it is also less noticeable.
If you are still confused, you can get in touch with the experts at Cure8 to help you write your own success story.
How to Use Digital Signage in Your Cannabis Store Effectively?
Promote your products, services, events, sales, and brand by using digital signages.
Do away with paper menus. Display menus, service offers, and much more on digital signages to make sure no information is missed by your customers.
Create calendars for events and occasions and display them on digital signages to keep visitors up-to-date.
Connect your social media handles with digital signage and display engaging posts, tags, and mentions to establish a trustworthy image and earn customer loyalty.
What Are The Benefits of Implementing Digital Signage For Dispensaries?
Read our full guide to the benefits of implementing digital signages for dispensaries
One of the most important advantages of digital signage is its ability to communicate effectively. It's an interactive gateway that enables businesses to interact with customers directly and engage them while they're in the store. According to Independent Retailer, digital signage has the potential to improve overall sales volume by roughly 32%.
Let's take a look at how digital signage might benefit cannabis dispensaries and retail stores:
Create TOMA (Top Of Mind Awareness) for Customers
Digital signages at your cannabis store can put your customers at ease. They can read the signages or interact with them at their own pace and not feel pushed into buying products. This way customers will feel more empowered and the chances of them making a purchase become sure shot.
Boost Sales
You can use your cannabis dispensary's digital signages to promote happy hours or to showcase new or improved products. You can also pre-schedule deals for a specific day and time in order to boost sales.
Ease of Updating
It can take a lot of time to update menu boards manually if your inventory changes significantly on a regular basis. You can integrate your POS with digital signages to automatically update the menus.
Real-time Inventory Management
One of the major advantages of implementing digital signage in a cannabis retail store is the possibility to integrate it with POS systems. When there are sales the inventory supply changes, the menu board is instantly updated to show available goods in real-time.
Improve Retail User Experience
You can improve your clients' retail experience by placing digital signages in your cannabis store. While they may have had similar experiences in the past, this is a step forward and a much-needed approach for selling cannabis products in the cannabis industry.
Establish Your Brand Image
You can impart information about your business, your vision, your mission, and how your dispensary conforms to all set rules and regulations.
You can also use digital signages to emphasize how your cannabis store operates within the confines of state and federal law, and how it assists clients in making informed selections.
Why You Must Not Use Consumer TVs for Digital Signage
Read our full guide to why consumer TVs must not be used as digital signages
Digital signages need commercial TVs as hardware. But many business owners deploy consumer TVs to do so, just so that they can save on some money. We strongly recommend you must not do so. Here is why you must never use consumer-grade TVs at your dispensary:
Consumer-Grade TVs Don't Long Last As Digital Signages
Commercial televisions (used for digital signage) can run continuously for several hours or around the clock, unlike consumer-grade televisions, which are only designed to run for roughly 8 hours a day.
Consumer-grade TVs for homes lack the airflow and cooling designs, as well as the appropriate technical components, to withstand heavy or continuous use. There buy commercial TVs for your digital signages.
Also, the warranty of a consumer-grade TV will stand void if it is used as digital signage.
Commercial TVs Enable Better Customer Experience
When it comes to engaging customers, quality is key, and signage systems are designed to provide just that. Commercial displays are brighter and have a far higher contrast ratio than household panels. Not to mention the wide range of sizes, designs, and futuristic screen options available in the signage market today. Consumer-grade televisions, on the other hand, are not designed to be used in either portrait or landscape mode.
Commercial TVs Work Better As Digital Signages
Commercial-grade televisions are designed to accomplish a lot of commands. Downloading an app or extension, downloading updates, or configuring permissions on all of your displays and digital signage players can all be done at the same time and in a matter of minutes on a commercial-grade TV. Furthermore, you may be able to add more digital signage devices to your network in the same amount of time.
Commercial TVs Assist in Retail Analytics
Retail analytics revolves around delivering analytic data on inventory levels, supply chain movement, consumer demand, sales, and other factors that are important for marketing and procurement choices. And this is exactly what commercial-grade TVs can help in.
You can reduce or increase the price of products according to the data you get by implementing digital signages. Video cameras can record the eye movement of the visitors and can help you in knowing which areas attract the greatest attention and what improvements you can do in areas that are not popular amongst the visitors.
Digital Signage Installation – How to Do It
Read our full guide to digital signage installation
It's challenging to choose the ideal digital signage solution, but the actual installation maybe even more complicated. What's the best way to get everything up and running? How do you make sure everything is powered and connected properly? How can you avoid problems at the last minute? Hardware and software needed to set up digital signage may differ from business to business but they are both important components for sure. There can be no digital signage without them.
Establish The Type Of Hardware You Need
Evaluate your business needs and find out the type of hardware you need.
Ask some basic questions such as – what should the size of the display be, how thin must the commercial-TV be, will there be any repercussions on the environment due to your digital signage, kind of screen that will work best for your business, and much more. Once you have answers to these questions you will be able to buy the best hardware for your store. Still, confused? Cure8's got your back.
Choose the Location Wisely
Yes, this is very important. You would want to put your digital signage screen at a place where it will be seen by as many people as possible and where it will be relevant.
Preference For Mounting The Digital Screen
There are three mounting options you can choose from:
Floor Mounted – Mounted on the floor these are user-friendly and placed within easy reach for interaction.
Wall-Mounted – As the name implies, this option is frequently utilized for video walls and digital menus.
Ceiling Mounted – Perhaps this is the most popular option because it doesn't take up much floor space and allows the screen to be set away from a wall. Of course, it doesn't work with touchscreen apps.
Choose Experts To Install The Digital Signage
Go with a team of experts to help install the digital signage as they know best. You must launch a 30-day test program before going live so that issues can be fixed before your customers see the digital signage.
Conceal Cables And Wires
This is important as you wouldn't want visitors to see cables hanging in the open. Wires and cables must be concealed within a drop ceiling or a wall so that the ambiance of your store is great all the time. In fact, when you hire experts for installation, they will make sure that the wires and cables are hidden without you pointing them out.
Support After Installation
It's not enough to just get your digital signage installed. To keep it up and running at all times, you'll need technical assistance.
When you work with experts like Cure8, you wouldn't have to worry about after-installation support. Our team not only makes sure that your digital signages are properly installed but also takes care that we are around lest you face any technical glitches.
Cutting-Edge Software Solutions For Your Digital Signages
Once you've selected the hardware and the location, you must consider the type of software you need to run the hardware. Here are a few of the best digital signage software you can choose from for your cannabis store:
Ping HD
You can manage your displays from anywhere, at any time, thanks to Ping HDs simple cloud-based platform. It's never been easier to keep track of your digital signage content. Their solutions put you in complete control of your digital messaging, whether you manage one retail dispensary or ten.
GreenScreens TV
The GreenScreens TV cannabis digital signage software is ideal for dispensaries that need a digital menu board but don't have a lot of time or money. With eye-catching digital menu boards, you can upsell knowledgeable clients while also educating new ones.
NoviSign Cannabis Digital Signage Software
The Digital Signage Software from NoviSign is simple and intuitive to use. In just a few minutes, any user, even one with little or no IT experience, can create, schedule, broadcast, and manage Digital Signage campaigns.
The software is built in layers, starting with a simple image/video campaign and progressing to a complex mix of image, video, rolling or static text, and embedded widgets that create a rich environment for live and dynamic digital campaigns.
How Can Cure8 Help?
Cure8 can assist you with your digital signage project. We can help you choose the best display hardware and software, as well as professionally install it for you.
We have the answers to all your digital signage questions, as well as the experience and skills to make digital signage work for your cannabis store.
Cure8 can help you choose and install any type of signage you require, even digital.
Our team is highly skilled and extremely hard-working, and we use only top-of-the-line equipment. You can trust us to do the job right. Contact us today for a quote.